1. Sizing
Syala Collections items are displayed and described appropriately in the best possible way in each photo. Please be guided accordingly with the SIZE GUIDE. It is shopper's discretion if the item would fit her best.
2. Modes of Payment
We offer the most convenient modes of payment:
COD (Cash On Delivery), BPI, BDO, Unionbank, SeaBank, Metrobank, GCash, Maya, PayPal, Credit or Debit Card, Cash On Pick Up at our office in Legazpi City.





Once you place an order, it is considered final. For non COD (Cash On Delivery) mode of payment, it must be settled within 24 hours. After doing so, let us know by filling out our CONFIRM PAYMENT form. If we do not receive your payment in 24 hours, our system will automatically put the items back on shop and cancel your order.

For overpayment, the amount will be changed to store credit. For underpayment, you will need to complete payment first before we can ship the items.
COD (Cash On Delivery)
Cash on Delivery is a safe and risk-free payment method and you only pay to our delivery associate upon receiving your items.
Our COD (Cash On Delivery) service is available through J&T and 2GO courier.
If your delivery address is not under the serviceable network of our COD (Cash On Delivery) partner courier J&T and 2GO, we shall inform you and you may select other modes of payment and courier.
Our delivery associate shall make a maximum of two (2) delivery attempts for Serviceable Areas and one (1) attempt only for out of town delivery. Please make sure you or somebody is around to receive and pay for your package at the time of delivery. Kindly contact us the soonest for instructions on how and where you can pick up your package if you fail to receive it after the maximum attempts.
Please only pay with cash and not by cheque, credit/debit card, or other forms of payment.
Please prepare the exact amount to pay based on your order total upon receiving your package. Please do not pay for any additional charges to our delivery associate.
Please note that for security purposes you need to pay your order total amount before opening your parcel and trying on your items. Our delivery associate will only deliver your items and not entertain returns and exchanges. For returns and exchanges, please refer to our Returns and Exchange Policy below.
We will contact you through your mobile number for order confirmation and again once your items are ready for shipping to make sure you are available to receive your items.
3. Order Preparation
Your orders will be prepared or manufactured within 1 - 2 days. After we are done preparing or manufacturing your orders, we shall then forward it to your selected courier or shipping company.
4. Shipping Fees and Delivery Days
Syala Collections items are at their best price and affordability. Buyer shoulders shipping fee.
To check JRS rates, please go to:
http://www.jrs-express.com/Home/Rates

To check LBC, please go to:
http://www.lbcexpress.com/

To check J&T rates, please go to:
https://www.jtexpress.ph/index/query/query.html

We also ship internationally! Philpost EMS rates apply.

Once your order is shipped out from Syala Collections, below are the respective courier shipping days. Days are exclusive of Sundays and holidays.
J&T (Both for COD (Cash On Delivery) and Non COD (Cash On Delivery)) : 1 - 2 weeks
2GO (COD (Cash On Delivery)): 1 - 2 weeks
LBC: 3 - 7 business days
JRS: 2 - 5 business days
PHLPost (For international shipping): 7 - 12 business days

You may select other modes of payment and courier if you wish to get your items sooner.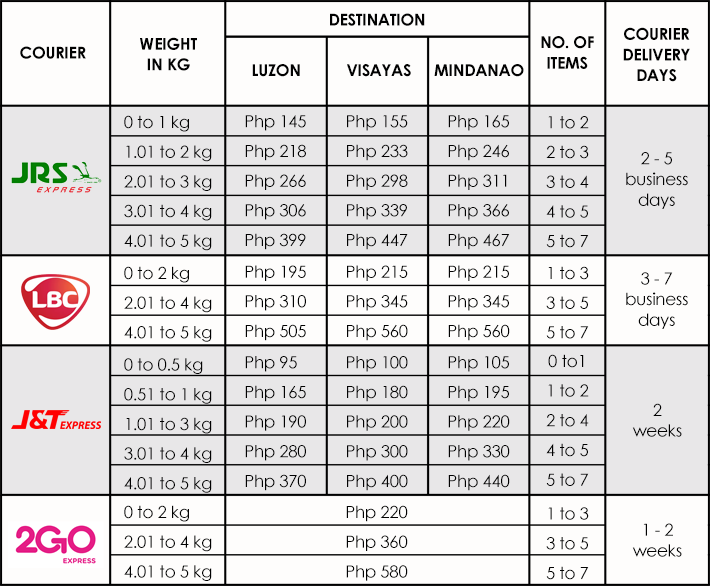 Syala Collections is not liable for delays incurred by the courier. You may TRACK ORDERS in My Account section. Should you need assistance in tracking, you may contact us.
5. Item Customization
For orders with customization (custom size exceeding 4XL, additional length, changes in sleeves, and the likes), additional amount may be added to the item cost. Our customer care associates will reach out to you for this detail.

6. Return and Exchange Policy
We love our items and we keep and handle them with utmost care. We do meticulous quality checking before we ship the items. If ever you receive any item with flaw, we allow return and exchange of items provided:
You inform us and return the item strictly within 3 days after receipt of package. You may find our contact details here.
The item has not been used, washed, nor tampered, with complete tags, within sellable condition.
Please allow us 7 days to process your return. If the item you are returning is still on stock, we will send you a new stock as replacement. If it is out of stock, you may choose another item of the same price. If you choose an item with a higher price, just add to complete payment. You may also change it to store credit and use it any time you wish to.
To your advantage, we shoulder shipping fees of returns and exchanges. Please use regular shipping upon returning the item. We will reimburse your shipping expense through store credit. You may use your store credit to purchase any item from us. The original shipping fee is non-refundable.
7. Product Color
The colors of the items are presented as they are seen in daylight. We try our best to define the colors as close as possible. The colors may vary due to the display setting on your monitor or your device.
Our terms and conditions are subject to change without prior notice, we advise shoppers to check this page regularly.

Thank you and happy shopping!